New Rosengång (Rosepath) Book!
Från Januariblues till Decemberröd – 18 Kuddar i Rosengång
by Anna Östlund A wonderful book with 18 stunning pillows in a rainbow of colors and patterns that match the months of the year. The inspirational rosepath designs woven on opposites are delightful with detailed instructions, beautiful pictures, and a small amount of text in Swedish.
Summer Weaving Workshop – July 11-15th
There is still room in our
Summer Weaving Workshop
that will take place in our Barn Studio. This would be a great opportunity to weave with a pre-teen or teenage relative or friend, as well as a chance for folks on our Basics waiting lists to get a taste of Vävstuga. You'll weave on a floor loom, a band loom, and even a replica of a Viking loom. Make a rag rug, a towel or napkin, experience draw loom weaving, natural dying, and spinning. This will be a great week and we hope you'll join us!
Swedish Classics – August 15-19 and August 29-September 2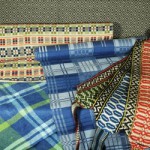 It's not often that we have space available in a
Swedish Classics
class! The natural follow-up class to  Vävstuga Basics, you'll weave monksbelt and rosepath in wool and linen, twill cotton yardage on 8 shafts, a single-ply linen tablecloth, and satin damask in cotton and linen. Call to take one of the few spaces available!
Weave for the Swedish Kitchen – July 19-22
There is only one space left in the wonderful
Kitchens class
and we wanted to share the color choices for the projects to tempt you. You choose your color, we'll wind and beam the warp for you. Projects include towels, runners, aprons, pot holders, placemats and/or napkins, in a variety of structures and yarns.
Väv Immersion Memories
The first Väv Immersion class was such a great experience and we miss our six participants so much! Here they are with all their weaving projects displayed! We will announce the dates and details for Väv Immersion 2017 soon!
Join us at Vävstuga for a great class, visit our store (Tues-Fri 9-3) or our web store any time, come to Library Hours on the first Friday of each month  2-5pm (next is July 1st), and check out our Facebook page and Ravelry group!
Happy Summer Weaving!