Linens: Seed to Cloth
Process flax, spin, and weave.
Instructor: Becky Ashenden
Dates offered 2023: Sep 4–8 (concurrent with Vävstuga Projects)
Weaving with linen can be very satisfying. As you beam, thread, and weave your own project, you will gain confidence working with this beautiful fiber and learn skills needed to keep it all going smoothly. Choose your main project from our assortment of possibilities. Also weave on a shared loom.
Weave 2 projects
Choose a special project of your own from our selections.
Rustic runner in plain weave showcasing your handspun yarns.
Shared project
Weave with your handspun linen yarns to make an exquisite piece not to be replicated.
Stages of flax processing
Ground retting (darker tones)
Warm water retting (lighter tones)
Breaking
Scutching
Hackling
Distaff dressing
Spinning
Finishing
Flax processing
Explore the entire process of growing flax, spinning yarn, and weaving it into cloth. Ground retting produces deep rich darker tones, while water retting produces a light creamy color. Every crop is different, and every retted batch comes out differently, giving an unbelievable array of colors and textures to weave with.
Spinning
You do not need to be an experienced spinner to enjoy this week. Flax is a long fiber, which makes it an excellent place to start. You are welcome to bring your own spinning wheel if you have one that you are comfortable with. We also have several spinning wheels of various styles for participants to try out. Linen is a magical fiber and this is a chance to get to know it intimately.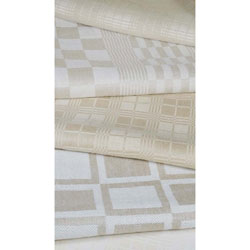 Register now
Prerequisites: Vävstuga Basics (Why does everyone need Basics?)
Max enrollment: 4–8
Course fee: $950 (includes all instruction and studio time, course handouts, lunch Mon–Fri
Materials fee: by weight
Days offered: Five-day session, Mon–Fri.
Schedule: Instruction time 9:00–noon and 1:30–4:00. Exceptions: on the last day, instruction ends at noon, and checkout must be completed by 3:00. Once a session begins, the Barn studio is available at all hours.