Special issue on Band Weaving
This month we are celebrating everything to do with bands at Vävstuga.
From our high quality
band weaving tools
that are hand crafted in our shop, to the many wonderful
books
we feature below and, of course, the option to weave bands during our
Vävstuga Favorites
classes.
Band Weaving Tools
Becky approved and locally made for Vävstuga, our band locks and rigid heddles are strong and beautiful.
Band locks
are available in small, medium, and large widths.
Rigid Heddles
We currently offer the popular medium size rigid heddle in both our
Standard
, that holds 59 warp ends, and with
Pattern slots
that holds 57 warp ends, including 13 pattern slots. We will be adding additional widths in the future.
Band Knives
Our beautiful new
Maple Band Knife
is lovely to work with.
We also have our Vävstuga designed
metal band knife
, made locally by Lamson, a well known cutlery and tool manufacturer here in western MA. It is a dream to use as a beater when weaving on a band loom.
Our gorgeous
8/2 Möbelåtta wool
is one of Becky's favorite yarns for bands.  The length of the fibers and the nature of the spinning make this a very dense and slippery yarn with a lot of sheen and drape.
Band Weaving Books
We are very excited to announce the return of
Eesti Kirivööd
!  Out of print for the last two years, this Estonian book has been translated into English. The new version also includes 4 additional bands. All the bands are from the Museum in Tartuu. The illustrations and drafts are very clear and easy to follow and include a photograph of the front and back of the original band from the museum.
Lapilised vööd
is another absolutely beautiful band weaving book from Estonia, made with the same attention to detail. These bands use plain weave for the ground structure and the warp float patterns are relatively simple. The effective use of color in both the plain weave threads and pattern threads presents a breathtaking array of designs. This book is no longer in print, but we still have some in stock.
Tablet Woven Bands
Three books including, and inspired by, ancient motifs.
Applesies and Fox Noses: Finnish Tablet Woven Bands
This is one of the most instructive manuals we have seen for tablet woven bands. The book contains clear instructions and pattern diagrams for 30 different bands with ancient universal motifs, used the world over from the dawn of time.
Traditional Finnish Decorative Bands
First published in 1903, this book offers a nice bit of history and a wide selection of headbands, belts, garters, and ornamental bands used in 19th century Finland. This book will teach you how to tablet weave bands using the techniques typical of the era: reversing twining direction on a diagonal, a.k.a. Finnish diagonals, and the tubular selvage and half turns – two specialties in Finland. 159 band designs are reproduced in color.
Tablet-Woven Accents for Designer Fabrics: Contemporary Uses for Ancient Techniques
Inge Dam's unique handwoven fabrics incorporating tablet-woven borders and accent bands are inspired by ancient textiles discovered in Danish bog and burial sites. In this book, she describes the five tablet-weaving techniques she uses and explains her process for incorporating tablet weaving into loom-woven fabrics. We are very excited to welcome
Inge Dam to Vävstuga, July 16-19,
for her class
Pebble Weaving with Tablets Meets Fabric
!  There are two spaces left if you would like to learn how to incorporate a tablet woven band into your fabric on the loom.
Classic Scandinavian Band Weaving
 Moraband
Barbro Wallin's intrigue with traditional handcrafts from her local town of Mora, in Dalarna, Sweden, stems from early childhood. In
Mora Band
she shares her collection of 100 patterns that she has collected throughout her life so that these traditions may be carried on.
Leksandsband I
  and
Leksandsband II
Also from Dalarna, Sweden, we are fortunate that Ing-Marie Frid has chosen to spend so many hours of her time analyzing these ornate and beautiful traditional bands from Leksand. She has produced two incredible catalogs of traditional patterns from this town. Ing-Marie has chosen to produce these volumes with a spiral binding so that you can open the book flat to copy any page for your own use. This way one can easily enlarge sections to more clearly see these complicated patterns.
Many of the bands in
Leksandsband I
have either 25 or 30 pattern threads, but the book offers a broad selection of bands with fewer pattern threads, as well. Each pattern includes a project drawdown and a photo of the woven band. There is an immense amount of information on these 122 pages.
In
Leksandsband II
, the bands range from 13 to 49 pattern threads. This time the bands analyzed were mostly small pieces and long bands in which every single one has many different patterns, in other words very "heavily patterned" bands. We offer the
set of both books
at a slightly reduced price.
Heather Torgenrud's complete book about Norwegian pick-up band weaving has become a classic, from its fascinating history to beautiful bands you can make yourself, including more than 100 pattern charts from bands in museum collections.
The book includes the history of how bands were used in rural communities of 18th and 19th century Norway. Then it looks closely at twenty bands brought to America by Norwegian immigrants, and what they tell us about traditional patterns, colors, and materials. Finally, the book has clear and concise instructions for weaving pick-up on simple, traditional band heddles, and these instructions can also be adapted to other kinds of looms. Now a classic, Heather's book is meticulously researched, easy to read, and beautifully illustrated.
The Weaver's Inkle Pattern Directory: 400 Warp-Faced Weaves
This book is the most comprehensive tool available to inkle weavers. Inside, you'll find an overview of inkle weaving's history and traditions, instructions for loom set-up and simple techniques, and an astonishing 400+ woven patterns with illustrated samples and charts.
Band Loom with Inkle Shedding System
Check out our
short film of this new band loom
modeled after an old design which uses half heddles in the same way that inkle looms do. If you are intrigued with this little loom and would like to learn more about its future availability, feel free to contact us.
You can choose to
focus on bands
in our
Vävstuga Favorites
classes coming up this fall.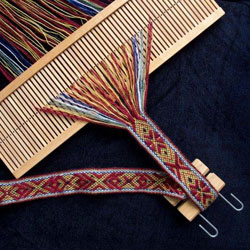 Come for one day, on a Monday or Tuesday, to learn rigid heddle weaving, starting with a plain weave band to achieve comfort with the basic skills of making a nice selvage, and packing the weft to achieve a uniform width. Then try your hand at a patterned pick-up band.
If you prefer, come for two days, Monday and Tuesday, to learn how to set up and weave on a Mora band loom with its special pattern-saving lashes.
Basics Alumni
can come for the
full week class
to learn how to weave fancy pattern pickup bands on a floor loom. This special technique was developed here at Vävstuga to weave wide and intricately patterned bands with easy visibility on a floor loom. We can also show you how to weave a plain weave band on a floor loom, such as the band we use to adorn our sheepskin-backed coverlets. Join us at Vävstuga for
a great class
, visit our store (Tues–Fri 9–3) or
our web store
any time, and check out our
Facebook page
and
Ravelry group
.