Summer Weaving, had me a blast!
We hope you are enjoying your summer weaving projects!  We've had a quiet, but wonderful, summer so far with the
Fiber Frolic
class for ages 10-Adult and
Inge Dam's Tablet Weaving Incorporated into Fabric
class.
Check our calendar
for
Vävstuga Favorites
classes and
One Day Wonder
sessions happening at Vävstuga this fall.
Long Weekend Break
Vävstuga will be closed on Friday, August 30th for the holiday weekend. You may place online orders and we will process them when we return on Tuesday, September 3rd. Thank you!
New Books
We are excited to offer three new books from Sweden with perfect projects for summer weaving and more, as well as a new book on bandweaving.
Tuskaft
by Tina Ignell includes over 60 projects based in plain weave that show the incredible variety possible with this structure, including dyeing, pleating, finishing techniques and more. All beautifully photographed with close-up details.
In
Upplandsvävar
, author Åsa Viksten Strömbom presents her extensive historical research on the cultural heritage of textiles in Uppland, Sweden that she used for inspiration for the contemporary projects that include rya, dräll, monksbelt, twill, waffle weave, rosepath and more. She closes the book with some interesting historical pictures and information about linen and wool from various sheep breeds.
Monica Hallén's newest book,
I Trasmattans Värld från A-Ö
takes an alphabetical approach to presenting information on rug weaving techniques, materials, and finishing. The book is filled with inspiring and instructional photographs and includes drafts for a wide variety of rugs. We are excited to welcome Monica as a guest teacher in 2020 (details to be released in the October News).
Weaving Patterned Bands: How to Create and Design with 5, 7, and 9 Pattern Threads
by Susan J. Foulkes features beautiful color photographs and drafts that illustrate the instructions for weaving beautiful bands using pattern rigid heddles, standard heddles, and band or inkle looms. The more than 140 colorful Nordic patterns are neatly organized in categories with many tips and tricks along the way. A section with instructions for picking patterns on an inkle loom, and an extensive bibliography, are also included. An opportunity for focused instruction in
band weaving
 is available in the
Vävstuga Favorites
classes this fall.
 Choose a one-day, Monday or Tuesday, session to weave on
Vävstuga Rigid Heddles
,
or choose a two-day, Monday and Tuesday, session to weave on a
Mora band loom
.
Monday and/or Tuesday band weaving sessions are available: Sept 16-17, Sept 30-Oct 1, Oct 21-22, and Nov 4-5.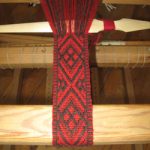 For those wishing to focus on weaving
fancy pattern pick-up bands on a floor loom
, choose a 5-day option.
5-day on-loom band weaving is available Sept 16-20, Oct 21-25, and Nov 4-8.
Scandinavian Knitting
Please join us for
Beth Brown-Reinsel's Scandinavian Knitting
class,
Nov 13-15
. Beth will be teaching the
Danish Skrå-trøje
. Beth will teach many useful and transferable skills, such as working from a chart, working with two different sizes of yarn, seam stitching, knitting the main motif, the underarm half gusset, working with a yarn in each hand or with 2 yarns in the left hand, purling in pattern with two yarns on the wrong side of the garment, creating a front slit, creating facings, a twined knitting braid on the cuff, an overlapped cuff slit, and assembly. Join us at
Vävstuga
for
a great class
, visit our store (Tues–Fri 9–3) or
our web store
any time, and check out our
Facebook page
and
Ravelry group
.