Vävstuga Projects
Fancy tablecloths
A special satisfaction comes from weaving your own special little tablecloths. Whether on a small table or as a centerpiece on a larger table, they add a special spice and interest to your table setting. Several small square tablecloths in a row can beautifully adorn a longer table. Choose your own colors in our Yarn Playground to match your dishes and add a spark of cheer to your dining room.
Our default warp length is 4.5 meters. If you prefer a 6- or 9-meter warp, please let us know.
Each of these projects is rated either intermediate or more advanced.
damask checkerboards
8 shafts
8 treadles
1032 ends
94 cm wide in reed
22/2 cottolin
luncheon delight
(sålldräll)
4 shafts
4 treadles
1472 ends
82 cm wide in reed
16/2 cotton warp
wavy grass
(sålldräll)
4 shafts
4 treadles
1064 ends
89 cm wide in reed
16/2 cotton
spring kitchen
6 shafts
6 treadles
711 ends
79 cm wide in reed
8/2 cotton
center square damask
8 shafts
8 treadles
1032 ends
94 cm wide in reed
8/2 cotton
asymmetrical blue
8 shafts
8 treadles
1140 ends
107 cm wide in reed
8/2 cotton warp
white twill squares
8 shafts
8 treadles
1048 ends
95 cm wide in reed
8/2 cotton warp
Barbro
(daldräll)
4 shafts
6 treadles
1570 ends
78 cm wide in reed
30/2 cotton warp
intermediate
intermediate
intermediate
intermediate
intermediate
intermediate
more advanced
more advanced
intermediate
intermediate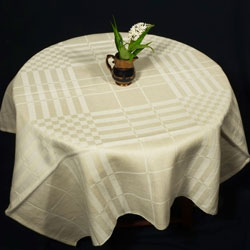 intermediate
intermediate
intermediate
intermediate
more advanced
more advanced